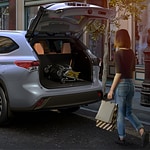 If you are in the market for a new car, you may be considering the Toyota Highlander. This is a great choice, as it offers many features and benefits that are sure to appeal to drivers of all ages. In this blog post, we will take a look at some of the exterior features of the Highlander. We will also discuss what makes them so appealing to drivers.

The Toyota Highlander is a popular choice for many drivers. It offers plenty of space and all the features that you need in a car.

One of the things that makes the Highlander so popular is its exterior features. These include:
- A sleek design that is sure to turn heads
- An aggressive stance that commands attention on the road
- A wide range of color choices to suit your style
- LED headlights and taillights that provide excellent visibility
- Roof rails for added storage space.