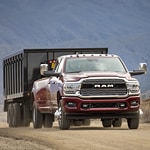 Ram 3500 takes towing and off-road capabilities seriously. That is why it offers extremely powerful high output diesel engine option for all your heavy lifting and pulling. You have an option to chose its range-topping high output 6.7L Cummins Turbodiesel I6 engine that provides a whopping 1,075 lbs. of torque and will pull along up to 37,090 lb of weight. This is an ideal engine for heavy duty people and cargo hauling.
It also comes with a 6.7-liter Cummins turbodiesel engine with an inline-6 configuration. This engine provides a towing capacity of 22,670 and a lively torque of 850 lb-ft that is ideal for dealing with the toughest off-road terrains. When fitted to the Ram 3500, this engine offers a maximum payload of 6,840 lbs., from its power output of 370-hp.
Highway runs and other speed frenzy driving style will benefit from the 6.4L HEMI V8 engine that provides 410 horsepower and 429 lb-ft of torque. This is adequate power to take you anywhere.