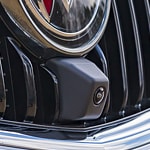 The Buick Envision may be considered a compact sport-utility vehicle, but its safety and security features are anything but small. Come by our showroom to check out the new Envision, and be ready to take one of these popular luxury SUVs on a test drive when you drop in.
In the Envision, safety is front and center thanks to a total of 10 airbags that protect occupants throughout the cabin. The driver's seat itself can be connected to several of the available early warning systems so that the driver can be warned of a potential problem via a vibratory alert instead of an auditory alarm.
If a stopped vehicle or pedestrian is detected in the Envision's path, the optional emergency braking system will kick in to slow the vehicle to avoid an accident. Moving in reverse is also made safer by an available surround-view camera and a rear cross-traffic alert system.