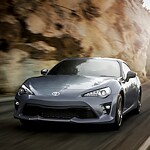 The Toyota 86 is turning heads at Ramey Auto Group thanks to its interior features. This popular sports car blends sophistication with an athletic style that drivers have come to expect from this model.
Each Toyota 86 features Granlux Trim, a suede-like fabric that accents the car's interior at key points. The "86" logo is displayed elegantly on the passenger side of the vehicle just above the glove box. There is also added bolstering on the front seats of the Toyota 86, and that means less movement when the car is hugging those tight turns. Toyota has managed to enhance the interior style of the 86 without sacrificing the car's sporty attributes.
Seeing is believing, and that's why we encourage you to schedule a test drive of the Toyota 86 today. All you have to do is give us a call at our dealership and we'll do the rest.