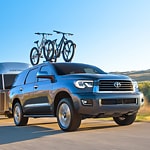 Is the Toyota Sequoia a good option for you? There's a good chance that it is! You should know that this is a full-size SUV that's quite popular and has lots of innovative technology.
Destination Assist

Destination Assist is an available feature in the Toyota Sequoia that makes it a lot easier to find different places to shop or eat when you're on the road. That's because there's a live agent helping you.

Service Connect

? Service Connect is a practical technology in the Toyota Sequoia with lots of features that simplify life. It can alert you when it's time for maintenance, provide data about fuel levels and present your service history. Service Connect helps to ensure you understand what your vehicle needs.
Are you ready to test drive the Sequoia? We invite you to visit us at Ramey Auto Group. We look forward to seeing you soon!