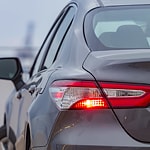 If you're in the market for a midsize sedan, the Toyota Camry should definitely be on your radar. That's because it has a way of improving the overall driving experience. The Camry is popular because it's affordable, powerful and feature-rich.
3-Mode Drive Switch

When driving a Toyota Camry, you can choose the Sport mode if you want a driving experience that feels lively. The other driving modes include Normal and ECO. If your focus is fuel economy, you'll want to select the ECO mode. The best part is having a choice.

Fuel Efficiency

? Who doesn't need to save money these days? The Camry is beloved for many reasons, including the fact that it saves you money. While the specifications will vary depending on the model, you can get 41 mpg on the highway.
While there's a wealth of information available online, it's best to take the Camry for a test drive. You can do that here at Ramey Auto Group.